Origination Story
Like so many other origination stories NIBI-MTK® started as a dream of founder Kristin Sheeler, and like so many dreams, this one repeated frequently, at times clear while at other times ethereal and gossamer. Kristin's experiences, designs, and evolving aesthetics had an unstoppable inertia that ultimately became reality in the form of the NIBI designs and boutiques.
Evo(lution) – the Ralph Lauren years
"I realize now that NIBI really started developing over 20 years ago while I was leading Ralph Lauren's color, print, and pattern division. I was developing prints and traveling to the mills to confirm strike-offs and production quality so frequently that I ended up spending a lot of time in Asia and Indonesia, which was great for me personally and professionally. I grew up a water person and loved the beach life. Spending so much time around some of the world's most beautiful beaches while focusing on the technical production details for the lines I oversaw started to fuse the aesthetic that Ralph is known for with the simple yet beautiful designs I was finding around the world.
As my responsibilities expanded to cover vintage buying I discovered a whole new lens and another layer was added to my 'design eye.' There was so much beauty hiding under the cover of years of aging and of use. Over a period of years not only did my responsibilities expand but so did my experiences. What's amazing is that my prints must still be part of an active print library, as every now and again I see one of the designs I hand painted 'walk' past me… it is very satisfying to know my hard work has had a lasting impact!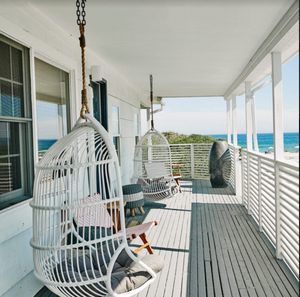 Evo(lution) – Surfing, Montauk & Costa Rica
After almost 16 years of design calendars, mill visits, strike-off meetings, and color pitches it was time to recharge. Over those years I had grown from scarves to running all color, print and pattern for the Ralph Lauren label and had logged thousands of hours in the vintage fields. During this period I had also found my 'true north;' it just happened that it was 125 miles due east of my Madison Avenue office in the quirky little hamlet of Montauk. I had been doing the Hamptons circuit for years when a housemate announced she was taking surfing lessons. Maybe it was fate, maybe it was simply my competitive side, but I decided I needed to learn to surf also. I was in the water the next day taking a lesson with the owner of one of the only two surf shops in Montauk. I was hooked and weekends were now a balancing act of checking-out to surf and then checking back in to the Hamptons nightlife. It was exhilarating and another layer was added.
By now it was the early 2000's and Ralph Lauren, Montauk, and the Hamptons had begun to blur. I took my leave from Ralph Lauren, packed a bag, booked a flight, and landed in Costa Rica. My first three weeks flew by and I was nowhere near ready to come home. I phoned home to let my family know I was staying and began the adventure that turned into a year of surfing, exploring, and really living in Costa Rica. I realized the beauty and pure efficiency of living day-to-night. I basically lived on the beach eating ceviche, surfing, painting, and getting to know 'pura vida.' I was living in sarongs and simple dresses; everywhere I looked there were beautiful prints, amazing colors and shapes, and inspiring sunsets; this Ralph-girl was fully evolving a total boho beach vibe.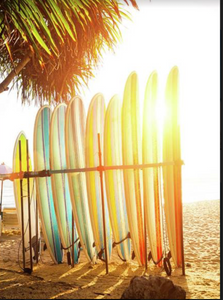 Evo(lution) – Victoria's Secret and Gilly Hicks
Life was idyllic but the inertia toward NIBI was still there, always subtly driving. I had virtually lost track of time when I was contacted with an opportunity to direct concept on the Angels line for Victoria's Secret. It was a difficult decision but my creative drive had been getting louder and more insistent and leading concept was something I had always wanted to do. As quickly as it began, Costa Rica was over and I was back in a Madison Avenue office. But, the culture shock I expected didn't happen, as a matter of fact it was the exact opposite. All of the classic design that was Ralph Lauren and the rugged beauty that was the beach began to blend into a unique concept perspective. When the opportunity came to work on "Concept C" at Abercrombie and Fitch, I jumped at it. It was the chance of a lifetime to take a concept from story to store. "Concept C" was Gilly Hicks and I was leading the way. I went to Australia and embraced Gilly's luxurious boho life. Did I sneak in a surf or two at some of Oz's famous east coast spots? Yes. Did I add another layer to my design eye? Yes! Did my team start calling me "Gilly?" Yes!!
Evo(lution) – Aéropostale, Delia's, and the birth of NIBI-MTK
Gilly Hicks launched and the transition from concept to 'run' was not my path. I needed to continue to push my branding and creative outlets. I helped a well-known hardcore alpine climbing brand develop their mainstream alpine skiing line; I was recruited by the senior executive that had led my work at VS and AnF to help refresh Aéro's look; I then made the jump to Delia's as they re-organized their creative team in an effort to re-invigorate that much-loved brand. All the while the drive to create something unique, something my own, was intensifying. The inertia that had been subtle and under the surface for so long was bubbling to the top and was hard to ignore.
In late 2013 I realized I would not find complete satisfaction through creative stints at someone else's brands. I once again took time off to re-focus. This time I didn't look far from the Montauk home I had finally purchased in 2010 after more than a dozen years of surf share houses and thousands of miles logged driving to/from Montauk. I reveled in the dichotomy of the peaceful quietness and explosive energy that had been growing in Montauk. I surfed, I enjoyed the beach, walked the peaceful dunes, and I centered. In April, 2014 I literally sat up straight in bed one morning and announced to my husband that I was starting a swim line. It was like a lightning bolt had struck and brought the clarity I hadn't had for years. I dove into design with the passion and drive of a mad woman. Six weeks later and with the help of some amazing production relationships I had developed, the NIBI-MTK swim line launched.
We spent 2014 doing pop-ups all over Montauk and the east-end. My husband, who had a full-time job joked that he felt we had become carnies. We grew skilled at setting up and breaking down our tent everywhere from restaurant parking lots to hotel courtyards. I needed to find out not only did the brand have a market, but if so, where. The answer was as clear as the vision. At every event the NIBI-MTK tent was swarmed with people. "Unique!" "Finally!" "Where have you been?" were comments we heard over and over. It was astounding! When we wrapped up the summer pop-up season we knew the what, and we knew Montauk was the where. The how was more elusive.
Serendipity, along with good old fashioned networking quickly provided the answer. As in the fall of 2013, the crystallizing moment appeared and resolved seemingly in an instant. It turns out NIBI-MTK had made a lasting impression on the management team at one of Montauk's beach motels, The Atlantic Terrace. We had done a couple pop-ups there with the usual outcome and had impressed the property's forward-thinking manager. Over the winter he convinced the owners to explore the changes starting in Montauk and allow him to get open a boutique and an art gallery on the property for the 2015 summer season. NIBI-MTK had found its first home!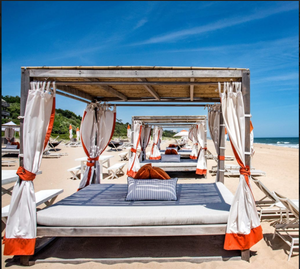 Evo(lution) – Inertia becomes Momentum / the Taking of Hamptons 1, 2, 3
The force that had been ever-present for years had now changed to momentum. NIBI-MTK was growing and moving forward. At first, the swim line added cover-ups and tassels – NIBI became the trend leader in Montauk letting girls blend day/beach to night/club in Montauk's growing scene. As others flooded the swim market, NIBI started pairing back in that area and embraced overall beach fashion through organic designs and strategic partnerships. One space at The Atlantic Terrace became two, then we expanded from the Atlantic Terrace and added Solé East hotel. The hip, trendy laid-back vibe at Solé East and its weekend pool party scene fit perfectly with the ever-evolving NIBI-MTK look. I added higher fashion and NIBI's barefoot luxury boho style crystallized.
As 2017 was ending it was clear NIBI-MTK needed a flagship location. Enter serendipity, again. A realtor friend saw a 'for lease' sign being hung, made two phone calls – 1 to the listing agent, 1 to me – and within a week NIBI-MTK had locked in NIBI's new flagship store in Montauk. It was perfect; close enough to Main Street to be easily found but just far enough off that it needed to be found. The NIBI brand had thrived on developing a just-off-the radar reputation providing trend-forward fashion and the new store was a perfect match. The new location opened in the spring of 2018, and it became apparent right away that people were going to find NIBI-MTK. The risk of going from seasonal hotel location to a year round free standing store was quickly replaced by the exhilaration of the expanding brand – more organic designs, a larger embrace of barefoot beach luxury. NIBI-MTK was accelerating.
Enter 2019 and an early spring meeting in Southampton to discuss a possible summer collaboration with NIBI-MTK taking a window space in an established Southampton boutique. Potential seemed high but the drive home revealed the true potential, a newly available space in Bridgehampton. I'm not sure why, but the long analytical process doesn't seem to work with me; lightning bolts and gut decisions win the day. We were building out our new Bridgehampton location within weeks. Concerned advisors said Bridge wasn't a great shopping town, it was filled with galleries and antique stores and didn't have a lot of fashion. I have built NIBI-MTK by being able to find a niche, find the location that doesn't have what NIBI-MTK is, not because it is not wanted but because no one else has had the vision, or guts!
We made it through 2020 and were elated to not only see the support of the community but also to be able to contribute by adjusting our manufacturing to enable us to add print/pattern matched masks with every dress. Then, early in 2021, a random conversation led to a lead on a newly available space in Westhampton Beach and we jumped at it. We were completing leases and planning a new build-out for an early-May launch within days. Once again, the NIBI boutique in Westhampton Beach opened incredible support from the local community and immediately saw customers new and old flocking to the store.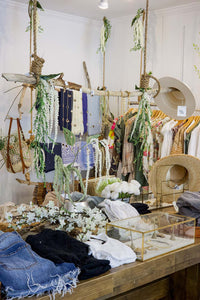 Evo(lution) – Around the Corner
NIBI-MTK has never stopped evolving. It has grown in ways that have at times surprised, awed, and terrified but it has never stopped inspiring. There is so much more to do and in the works. We are re-designing our website, looking for new locations, and doing our first wholesale shows this year. The adventure is still going and I can't wait for what I know is around the corner!
Get on the list.
Apparently we had reached a great height in the atmosphere, for the sky was a
dead black and there a stars.